ZAGONETKE: Vlasnik prodavnice za kućne ljubimce
ZAGONETKA: Vlasnik prodavnice za kućne ljubimce će vam izmamiti osmijeh na lice nakon što je riješite. Nasmijava nas i opušta mozak i tijelo. Pomaže nam osloboditi se stresa i potaknuti pozitivno mentalno zdravlje. Zagonetke također pomažu djeci da razviju svoje vještine rješavanja problema, logiku i kritičko razmišljanje. Ako pokušavate riješiti zagonetku određeno vrijeme, to povećava vašu koncentraciju i čini vaš fokus stabilnim.
Jesu li zagonetke dobre za vaš mozak?

Proizvodnja dopamina u mozgu će se povećati kada riješite zagonetku.
A sada pređimo na današnju mozgalicu:
Ona glasi:
Vlasnik prodavnice za kućne ljubimce imao je papigu s natpisom na kavezu "Papiga ponavlja sve što čuje". Neki mladić je kupio papigu i dvije sedmice je razgovarao s njim, a on nije rekao ni riječi. Vratio je papigu, ali je trgovac rekao da nikada nije lagao o papigi.
Kako to može biti?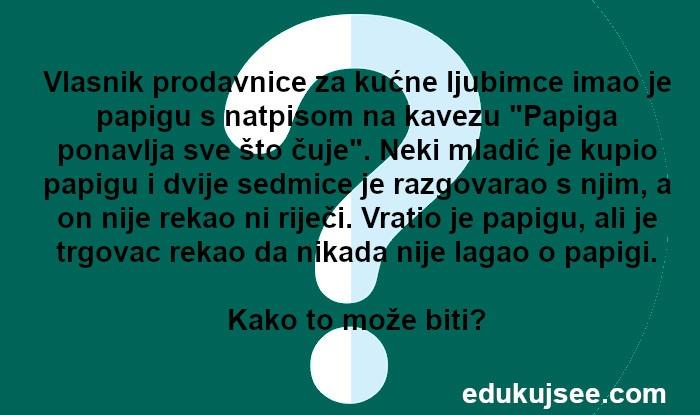 Rješenje na sljedećoj stranici: