Odlazak u supermarket može biti pravo iskustvo. Većina ljudi planira svoje "putovanje" unaprijed i čak ide u točno određeno vrijeme kako bi izbjegli čekanje u dugim redovima. Svatko želi da njegov posjet bude što brži i učinkovitiji. Međutim, ta mjesta djeluju na misteriozne načine i uvijek nas natjeraju da tamo provedemo više vremena nego što smo planirali. Ako se možete poistovjetiti s ovim, ne brinite. Svi smo kad-tad nasjeli na ove trikove i nikad nije kasno da ih uočite kako biste mogli nešto poduzeti po tom pitanju.
Zato je Bright Side osmislio popis trikova kojima se ove trgovine služe kako bi nas natjerale da kupujemo više. Pogledajte prepoznajete li kojeg od njih.
Supermarketi postavljaju mnoga velika kolica odmah na ulazu. Za razliku od onoga što ste možda mislili, ovo zapravo nije učinjeno zbog vaše udobnosti, već radije kako biste napunili ova kolica proizvodima. Nije ni čudo zašto na kraju kući nosite velik broj nepotrebne robe. Prema Martinu Lindstrømu, marketinškom savjetniku i autoru knjige Brandwashed: Tricks Companies Use to Manipulate Our Minds and Persuad Us to Buy, tijekom eksperimenta znanstvenici su udvostručili veličinu kolica. Ova mala promjena rezultirala je time da ljudi kupuju 40% više.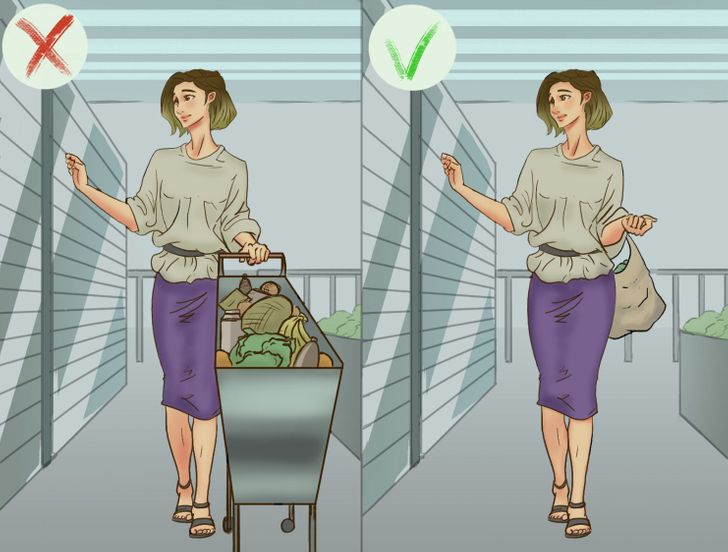 Supermarketi dobro koriste sezonske kampanje, poput Božića, Uskrsa ili Valentinova. To znači da ćete tijekom ovih posebnih razdoblja u godini vidjeti proizvode (osobito čokoladu) koji aludiraju na blagdane. Ponekad ćemo svejedno kupiti takve proizvode. Ali kad se odmah ne sjetimo, supermarket je već stvorio potrebu za njima.
Još jedan trik kojim se supermarketi služe je da u prvom prolazu imaju voće, povrće, pa čak i pekaru. Razlog za ovo? Prema članku Sveučilišta Butler "Kupovina namirnica za vaše zdravlje", ovaj je dio poznat kao "zona dekompresije", prostor u kojem se miješaju mirisi i boje koje čine da se osjećamo dobro i zdravo, ali nas također navode da impulzivno kupujemo druge stvari . "Nije tajna da mnogi ljudi imaju cilj kupovati zdravu hranu u supermarketu, ali preopterećeno okruženje čini tu namjeru teško ostvarivom", istaknuli su autori članka u svojoj publikaciji.
Jedna stvar zbog koje ste još ranjiviji na trikove supermarketa da prodaju više je kupovina namirnica kada ste gladni. "Odlazak u kupovinu kada ste gladni recept je za katastrofu, dodatno vas dovodi u iskušenje da se prepustite kupnji primamljivih slatkiša i brze hrane. Kada je ljudsko tijelo gladno, čovjek gubi samokontrolu, posebno kada je okružen hranom." Ovo je još jedna točka obrađena u članku "Kupovina namirnica za vaše zdravlje" Sveučilišta Butler. Studija iz 2015. zaključila je da glad potiče kupnju općenito.
Besplatni uzorci hrane još su jedan način da nas potaknete da kupujemo više. Jeste li ikada bili u prolazu supermarketa i ponudili vam da probate komad sočnog, svježeg mesa koje oni prodaju? Prema članku objavljenom u Supermarket Newsu 2004., 68% potrošača u supermarketu u Indianapolisu, SAD, reklo je da ih je kušanje proizvoda uvjerilo na kupnju. To je pak bilo korisno za trgovinu jer je uspjela povećati prodaju određenih proizvoda koje su pokušavali promovirati između 600% i 2000%. Ova tehnika je i danas relevantna.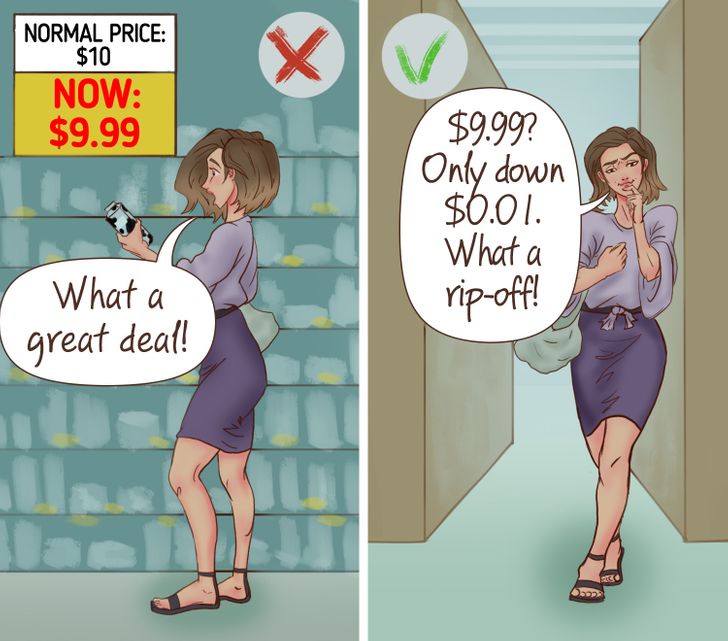 Nastavite čitati na sljedećoj stranici: