Test ličnosti: Odgovorite šta biste učinili u hitnim slučajevima i otkrijte svoje unutarnje strahove
Iznesite svoje unutarnje strahove na test koji će vam puno pomoći. Ovaj test osobnosti bit će ono što ste trebali, a niste tražili. Odgovorite na najtačniji način za vas i znat ćete.
Odgovarajući na ovaj test osobnosti saznat ćete što stoji iza svake vaše odluke prema osobinama vašeg načina postojanja i razmišljanja. Mnogo puta ne prepoznajemo zašto nam u životu ne ide dobro, u čemu ne uspijevamo ili čemu pridajemo veliku važnost, a na kraju uzima svoj danak. Pripremite se za ono što ćete čitati, ali učinite to bez oklijevanja. Ono što trebate učiniti je odgovoriti kakvu biste reakciju mogli imati prema ovoj situaciji koju prikazuje slika ovog testa.
Ovaj test osobnosti vam pokušava pomoći, a vi samo morate biti iskreni u sljedećem pitanju: Šta biste učinili u ovoj situaciji? Odaberite jednu od četiri opcije.  Nemojte varati da pogledate odgovore u nastavku.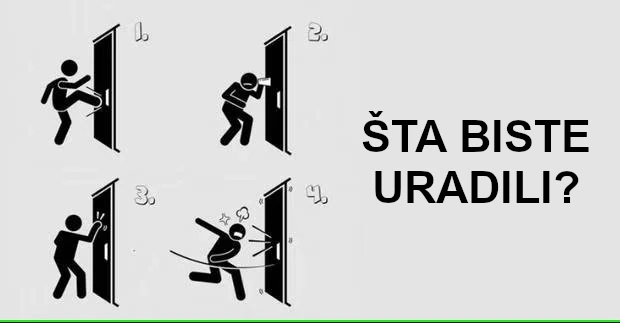 1. Pokušavate provaliti
Vi ste odlučna osoba, sigurna u sebe. Potpuno vjerujete svojim sposobnostima i ne bojite se. Međutim, vi ste također impulzivni i nemojte dvaput razmišljati. Da biste daleko stigli u životu, morate zadržati to samopouzdanje koje vas karakterizira, ali je također važno da shvatite da je ponekad potreban trenutak introspekcije.
2. Pokušavate čuti što je s druge strane
Budite oprezni, ne volite činiti pogrešne korake. Obično ne griješite u svojim odlukama. Problem je što ponekad treba predugo da budemo sigurni. Trebali biste imati više samopouzdanja, čak i ako izgledi nisu na vašoj strani, imate sposobnost riješiti probleme koji vam se nađu na putu.
3. Kucaš na vrata
Možda ste praktična, jednostavna i nevina osoba. Sposoban prihvatiti stvari onakve kakve jesu bez gubitka smirenosti. Za najteže probleme obično uvijek nađete najlakše rješenje. Naravno, ponekad vam nedostaje malo zamaha.
4. Vičete i radite skandal
Ta sposobnost da se osjećate izazovnim u svim situacijama čini vas empatičnom, strastvenom i blistavom osobom. Volite imati kontrolu nad situacijama, a gubite ravnotežu ako stvari krenu drugačije. Vaš najveći izazov je naučiti ostati smiren kada situacije to zahtijevaju, shvatiti da to ne znači slabost, upravo suprotno.