Mogu postojati različiti scenariji za budućnost ljudi. Istraživači koriste digitalne alate kako bi proučavali kako će sama tehnologija igrati ulogu u evoluciji naših tijela. Postoji i scenarij vodenog svijeta kada se razina mora počne dizati.
Razvit ćemo drugi set kapaka.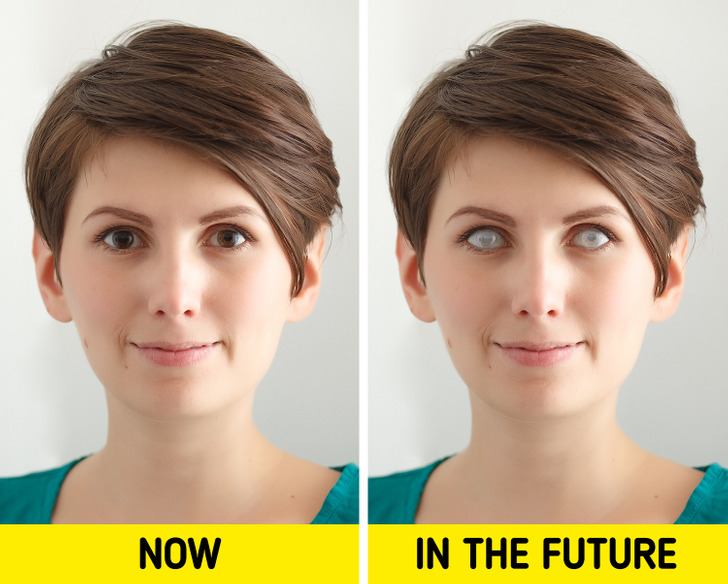 Budućnost visoke tehnologije mogla bi donijeti neke promjene u ljudskim tijelima, pretpostavljaju istraživači. Osim tehnološkog vrata, ljudi mogu završiti s drugim očnim kapcima. Oni bi mogli pomoći u filtriranju viška svjetlosti iz naših tehnoloških uređaja.
Unutarnji kapak mogao bi postati veći kako bi blokirao dolazno plavo, zeleno, žuto ili crveno svjetlo.
Naše će ruke više izgledati kao kandže.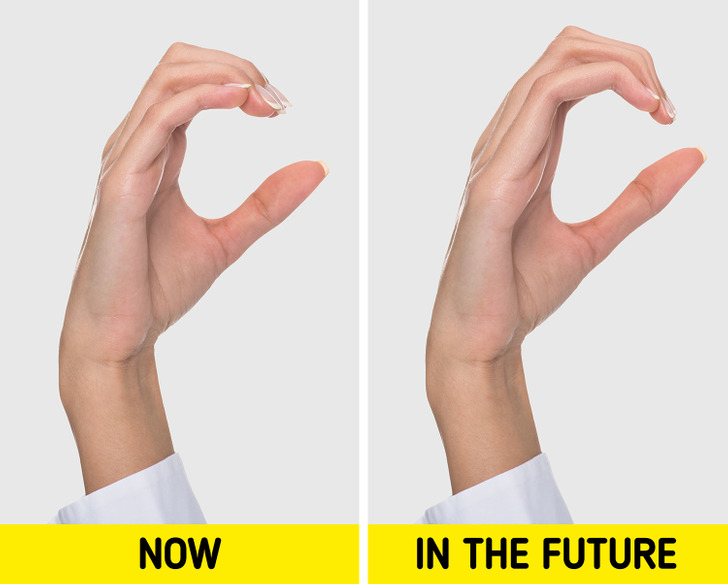 Nakon dugih razdoblja i godina držanja pametnih telefona, do 2100. godine, čovjek bi mogao imati ruke koje će biti oblikovane u stisak poput kandži. Zvat će se "tekstualna kandža".
Osim toga, lakat će vjerojatno biti savijen pod kutom od 90 stupnjeva.
Zubi će postati manji.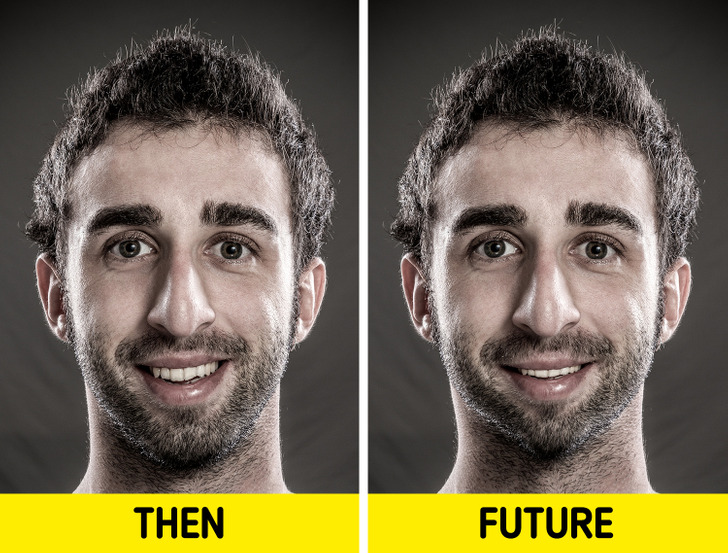 Antropolozi sugeriraju da će se zubi i dalje smanjivati ​​u budućim generacijama. Nema potrebe za velikim, jakim zubima radi preživljavanja.
Osim što se zubi smanjuju, mogla bi se smanjiti i čeljust. Više će ličiti na bolest stila života nego na genetsku.
Ljudska stopala će postati veća.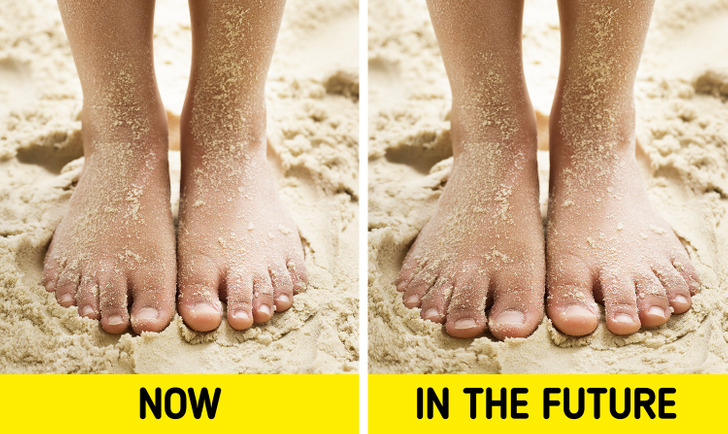 Klimatske promjene mogle bi dovesti do toga da ljudi rastu u mrežastim stopalima i većim prstima. To bi se moglo dogoditi u slučaju "vodenog svijeta" ako razina mora poraste.
Nosovi će postati veći.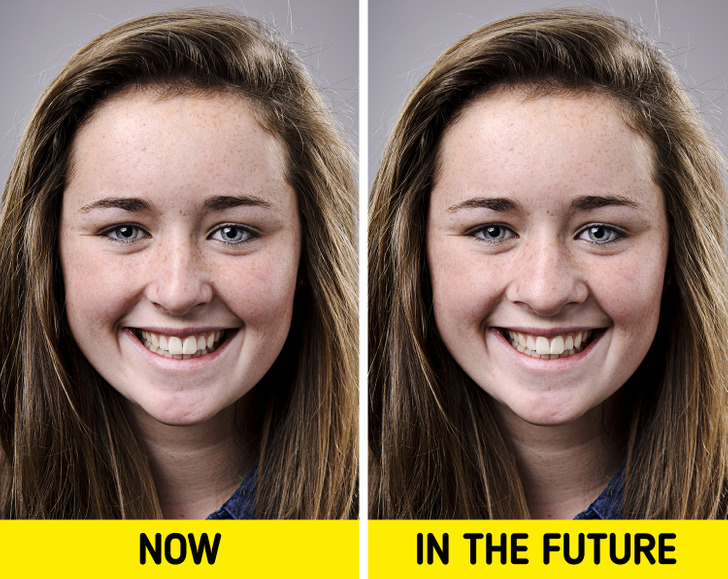 Veličina nosa bi se u budućnosti mogla u prosjeku povećati. Može pomoći da se hladan zrak zagrije kada se udiše. I to će biti rezultat klimatskih promjena, a ne genetike. Opet bi se ovaj scenarij mogao dogoditi u slučaju vodenog svijeta.
Metamorfoza ljudskog lica u dalekoj budućnosti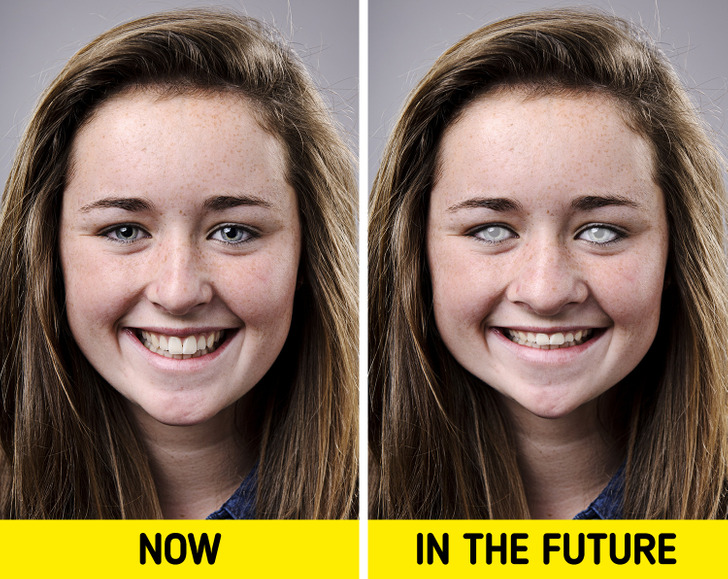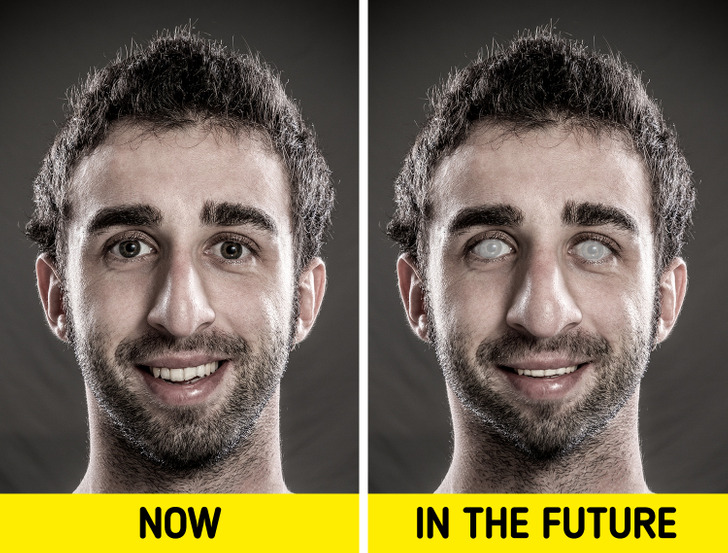 Zaokružili smo nekoliko teorija i ovako bi ljudi mogli izgledati prema istraživačima. Naravno, ne znamo kakva će biti klima ni za 100 godina ili će tehnologija i porast razine mora biti glavni razlozi evolucije, ali barem sada možemo početi činiti sve da zaustavimo globalne ekološke probleme u budućnost.